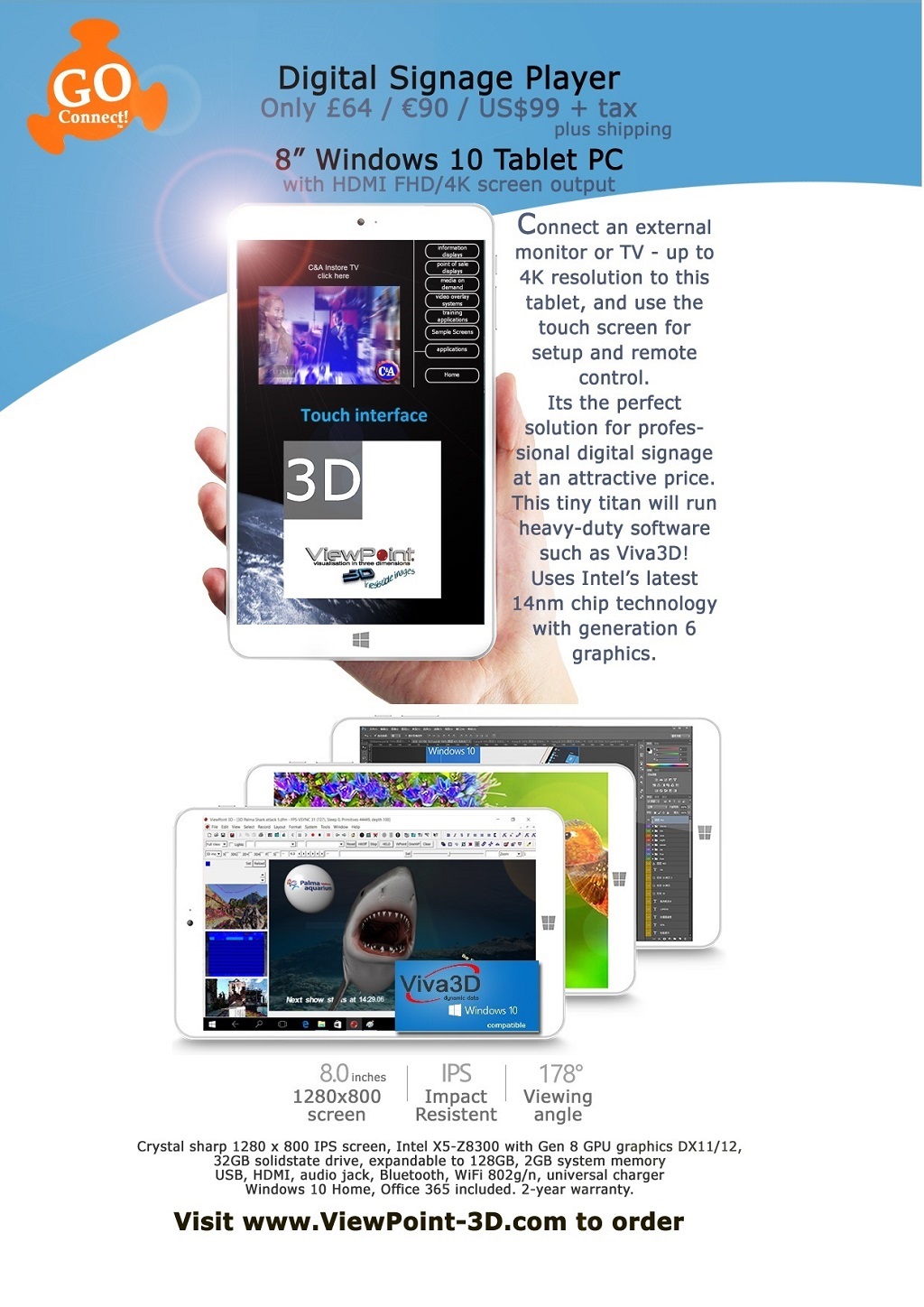 Viva3D Signage Software now available - click here for videos
A new way to create information TV channels, 3D presentations and digital content with live-data and without complexities or limitations.
Capture 3D live camera feed from up to 8 cameras and add 3D text and graphics to autostereo direct output.
Use it as a 3D content creation tool, easily include live data, so your content is always fresh.
Use it with all your existing material to rapidly produce Full-HD and Full-QHD 2D & 3D content.
Create stunning presentations in 3D, or even educational videos with life-like 3D models.
Save up to 80% on production costs with a f

aster & more flexible method to create TV quality
content with glossy effects for 2D & 3D screens. Directly drives glasses-free 3D TVs & projectors.
Viva3D Designer available from just US$ 44- / GBP 29- / Euro 36-
Includes technical support and updates for the next 12 months
Click on the above images to view full sized screenshots. Click here to view product data.
2D & 3D Digital Signage player software licenses available from just US$ 26-
* Viva3D fully supports standard content, video, Flash, images even PowerPoint
With step-by-step examples, stunning 3D presentations can now be created in minutes
Animated 3D presentations update in real-time from live data feeds, RSS and more
Create interactive 3D content with an enormous range of life-realistic content
Viva3D player software completely controls the PC player, with full reporting via email and SMS
Efficient software allows real-time 3D to run smoothly on low-cost PCs and even smart phones
Compatible with standard screens and projectors
Real-time video processing of 3D for No Glasses 3D TVs
Near-reality 3D modelling soon to be incorporated
Support guarantee - help available when you need it